Musician of absolute level and highly sought after in pop and jazz, he is considered among the best Italian pianists. Graduated from the Conservatory of Santa Cecilia in Rome, he is the artist of choice of the best Italian performers, including Mina, Baglioni, Celentano, Mannoia and more recently Gino Paoli. He is an immense and visceral interpreter, who irremediably bewitches and conquers with his free improvisations on famous melodic themes.
He has worked with numerous world-class characters, including Chet Baker, Lee Konitz, Bob Berg, Michael Brecker, Tony Oxley, Dave Liebman, Kenny Wheeler, John Scofield, Joe Lovano, Toots Thieleman and Ramin Bahrami in the splendid Bach is in the air. He performs in major Italian and international jazz festivals, as well as holding solo piano concerts.
Danilo Rea is also a great Hi-Fi enthusiast, he has never hidden it. In his apartment, numerous systems alternate between the sacred and the profane, between modern and vintage. But the interpretation he makes of Hi-Fi is completely personal, for him a device is like a piano, he chooses them carefully, in short, they must correspond to it. Volumio Primo was immediately part of Danilo's universe, who immediately appreciated its natural and expressive qualities as well as its ease of use.
Now Primo is a permanent partner of his musical universe, alternating between one system and another, he has made it a real work tool.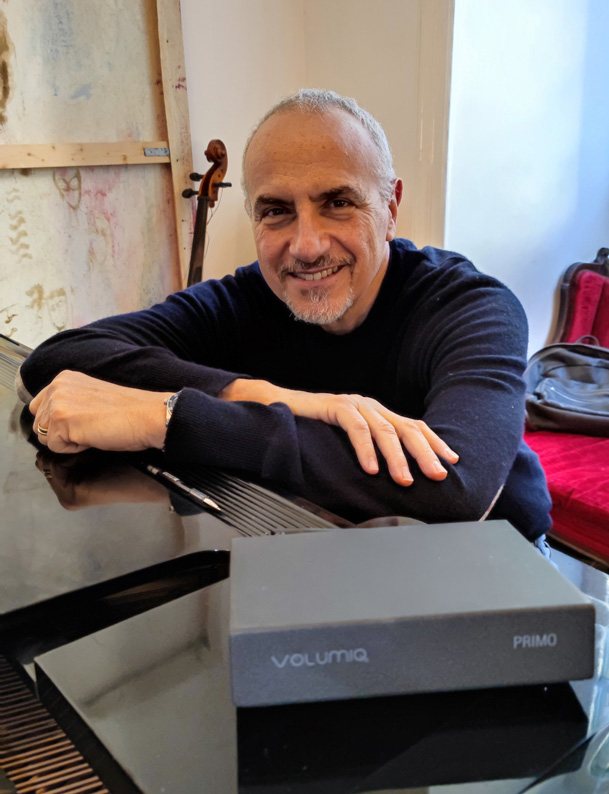 Musicista di livello assoluto e molto ricercato in ambito pop e jazz, è considerato tra i migliori pianisti italiani. Diplomato al conservatorio di Santa Cecilia a Roma, è l'artista d'elezione dei migliori interpreti italiani, tra i quali Mina, Baglioni, Celentano, Mannoia e più di recente Gino Paoli. E' un interprete immenso e viscerale, che ammalia e conquista irrimediabilmente con le sue libere improvvisazioni su temi melodici celebri.
Ha lavorato con numerosi personaggi di livello assoluto, tra i quali Chet Baker, Lee Konitz, Bob Berg, Michael Brecker, Tony Oxley, Dave Liebman, Kenny Wheeler, John Scofield, Joe Lovano, Toots Thieleman e Ramin Bahrami nello splendido Bach is in the air. Si esibisce nei maggiori festival jazz italiani e internazionali, oltre a tenere concerti di piano solo.
Danilo Rea è anche un grande appassionato di Hi-Fi, non lo ha mai nascosto. Nel suo appartamento numerosi impianti si alternano, tra sacro e profano, tra moderno e vintage. Ma l'interpretazione che fa dell'Hi-Fi è del tutto personale, per lui un apparecchio è come un pianoforte, li sceglie con cura, gli devono, insomma, corrispondere. Il Volumio Primo ha fatto subito parte dell'universo di Danilo, che ne ha apprezzato immediatamente le doti di naturalezza ed espressività oltre alla facilità d'uso.
Adesso è partner fisso dei suoi ascolti, e lo alterna tra un sistema e l'altro, ci lavora, ne ha fatto, insomma, un vero e proprio strumento di lavoro.