A COMPLETE REDESIGN.
Designed by the latest Red Dot Award winner, Design Narratives Ltd. has designed the Primo around a chassis made of antimagnetic aluminum.
Complementing with a dark wood texture front panel and adding a status LED and power button, giving a 360˚ aesthetic change from our first version of Primo.
A BUILT-IN TOP OF THE LINE DAC TO BRING HI-FI SOUND
A truly complete product, for those who already have an audio system and want to complete it with a high-level DAC-Streamer.
Volumio Primo was made with the top of the SABRE DACs -the ESS 9038Q2M– in differential configuration connected in I2S to the digital input section, that can bring any enthusiast to the world of streamers without compromising.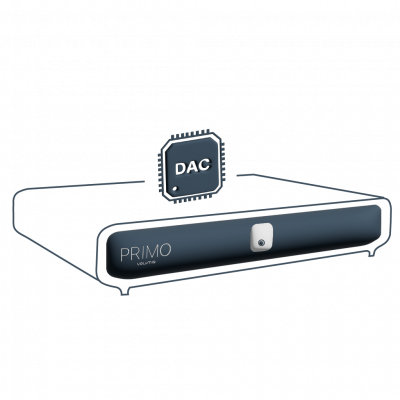 With all internal components carefully being examined for improvements, Primo was developed with a highly performant quad-core processor, making Primo achieve first-class efficiency and speed for audio reproduction. 
The latest Amlogic Quadcore CPU running at 1.9GHz and 2GB of RAM form Primo brain that effortlessly runs the Volumio OS.
Explore a wide range of connectivity options with Primo.
Analogue audio outputs are available in both balanced and single-ended formats, and there's a digital SPDIF coaxial output, one HDMI port for an external monitor and two USB ports.


Recommended connectivity option for achieving optimal sound
quality leveraging Primo's integrated high resolution DAC
Connect the power mains of
the provided Power Supply Unit
Used to stream digital audio to an
external DAC via coax S/PDIF connection
Used to attach USB DAC, hi-speed drives,
such as SSD, or digital sources such as CD drives
Connect this interface to your
router via an ethernet cable
Insert a Micro SD card to expand
the unit memory and add music files locally.
Allows connection to TV or monitor
and displays the User Interface
Used to attach USB accessories, thumb drives,
USB storage drives, keyboards, mice and smart remotes
VOLUMIO OS:

THE CORE OF PRIMO
You will find on board the latest version of Volumio –Volumio 3-, now even more performing and equipped with the Manifest UI for simple and intuitive management of musical contents, as well as greater fluidity and stability. The Multi-Room capability with other Volumio stations will create an integrated environment within your home.
Primo includes all Volumio Premium features.


Multiroom Sync Playback
Connect your Volumio devices and play your music in sync.

Music & Artist Credits' Discovery
Read and learn about your favorite music collection.

CD Playback & Ripping
Play and copy your CDs the most accurate way (CD drive needed)

Digital and Analog Inputs Playback
Connect a USB input and play it on Volumio.

Automatic Back Up and Sync
Sync all your devices and backup to a secure location.
ENDLESS LISTENING POSIBILITIES
With Primo, stream from your favorite music services such as Spotify, Tidal and Qobuz and use Volumio plugins to connect to many additional services and functionalities such as Youtube, Soundcloud, Radio Paradise, FusionDSP and more.
Bring your content from local or network-attached drives and play internet radio all thanks to Volumio OS.